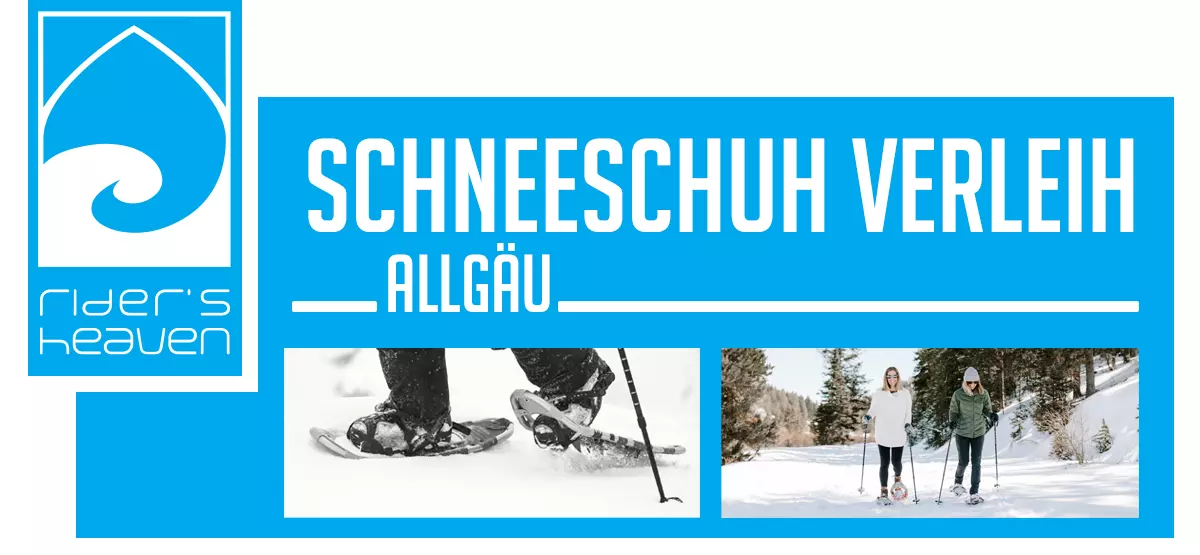 The new snowshoe rental, test center & sales in the Allgäu!
Easy to use, including accessories, can now be borrowed from the Ridersheaven Shop in Sonthofen in the Allgäu for single days or the whole weekend.
Price:
| | |
| --- | --- |
| 1 Day | 15 € |
| 1 Weekend | 25 € |
The rental or testprice will be cleared if you buy a Splitboard. 
Procedure and settlement for rental and test SUP's
Here are some facts and handy hints if you want to rent and test a SUP at our Flapshipstore:
- Do i have to show my ID or Passport at the Rental/Test station?
Yes, to hand out the rental and test material we have to take a copy of your ID or Passport to make sure that the contract is proofed and sealed on both sides incase of damage or stealing the SUP gear.
- Can i reserve the SUP gear beforehand?
No, beacuse we rent to many boards at high season (June - September) If you want to rent/test a SUP you can call us at our customer support. Mo - Sat.
- When can i rent/test a SUP?
You can rent/test SUP's under the week daily from 10am - 6pm. Every day ontop will be charged with 30€ daily rental price. 
On the weekends you can pick up the rental stuff on friday evening 6pm and bring it back on the following monday at 10am in the morning for the weekend price 50€
But feel free to call our customer service if you want to rent the SUP's for more than the weekend.
- What happens if the SUP i've rented is damaged whilst riding?
In this case we have a contract between the renter and the company Ridersheaven where everything is written down with your details like: Phonenummber, ID copy, rental date, price and all the important stuff such as insurance in case of damage. 
The SUP gear is checked by our workers if there is any damage to make sure we hand out a damage free and new Stand up paddle board. 
- How and where do i learn Stand Up Paddling?
Learn how to move and act on a stand up paddleboard is kinda tricky but not impossible.
Our partners (look at the main SUP rental page) will teach you how to handle the SUP's. 
For dates and appointments please contact SUP school allgäu or Zedride at Alpsee (Immenstadt)
What kind of boards and paddles do i get at Ridersheaven?
Contact:
mail@ridersheaven.com
08321/6909200
Immenstädterstr. 9
87527 Sonthofen
Mo - Fr: 09:30am - 6:30pm
Saturday: 09:30am - 4pm
Sunday: Closed
For all questions, reservations and bookings our boards, feel free to contact our customer support or come in our store. 
GABEL Splitboard stick Fr 3FL Lite Xtr 110-130cm black/red