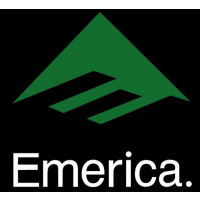 Emerica
---
---
---
The popular skate brand EMRICA knows exactly what is needed for clothing.
Even the popular Emerica sneakers with their clever features like for example breathable mesh panels, airsystems, lace loops, special insoles for extremely sensitive board control or multiple sewed ollie-zones,etc. perfected to inspire every skater.
So EMERICA perform exceptionally well in the skate function, as well as in the stylefactor. This is how "Skateboardig" is really fun!